Some people just won't let a thing be.
On Saturday, I was unable to attend the annual Kensington Kinetic Sculpture Derby because it conflicted with Tom Nascenzi's graduation party.
To enter this derby, you must make a sculpture and it must be able to move and that movement must be generated by human power. After that, you're pretty much on your own. You display your sculpture by driving through a course through the streets of Philadelphia. For reasons not entirely clear, the course ends at a big mudpit.
Anyway, here is the course: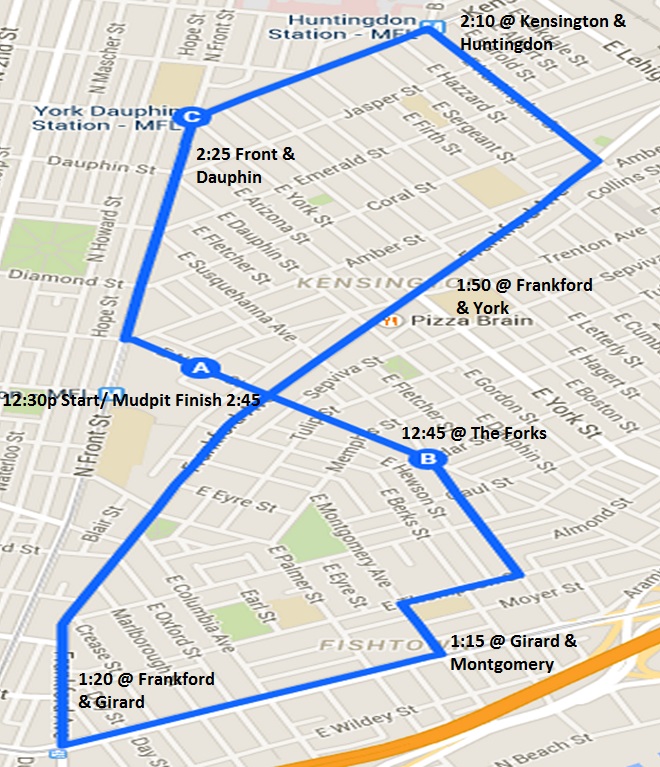 As you can see, the route includes Fishtown -- shown at the bottom. In fact, Ellen tells me that, even though it's called the Kensington Kenetic Sculpture Derby, most of the route is in Fishtown and it should be re-named.
It all takes me back to Charles Murray's Coming Apart. Check out the video below. After seeing it, I just can't imagine missing the mark more widely than using Fishtown as a symbol

of white working-class malaise. If nothing else, where were Murray's editors? If this is America at rock bottom, I'd say we're doing pretty well.